Yeah, he's an Aussie
Aussies have an amazing ability to 'adopt' successful folks as their own. But I think Lance Armstrong would be surprised to find that he is Australia's most successful road cyclist.
(
Revealed on tonight's Mediawatch
)
Some Other Famous 'Australians':
Phar Lap:
For all intents and purposes, the big red race-horse was a New Zealander. He was born and raised there.
But hey, he won a few races in Australia, capturing the imagination of a nation.
Verdict: Aussie as.

The Finn Brothers:


Split Enz, Crowded House, Tim Finn and Neil Finn: All products of New Zealand I would've thought.
The first track on Crowded House's debut album even speaks of their origins; Te Awamutu is in New Zealand isn't it? Or is it a suburb of Melbourne?
I will concede that the Crowdies were not 100% Kiwi, Nick Seymour is obviously an Aussie. I suppose it naturally follows that the Finn brothers are Australian by association.
Verdict: Aussie as.

Kim Clijsters:


Okay, so she was born in Belgium and lives in Belgium. She has also represented Belgium at the Olympics and in the Fed Cup.
But wasn't she 'rubbing uglies' with our own Lleyton Hewitt for a while there? Everyone knows that Lleyton is one of the Aussie-est Aussies that ever Aussied. Surely enough of that Aussie-ness would have rubbed off on Kim for her to be considered an Aussie.
And besides, how long has it been since an Aussie female won a major tennis tournament? We need her!
Verdict: Aussie as.
Russell Crowe:

Familiar story here too; Crowe was born and raised in New Zealand, his cousins Martin and Jeff Crowe even played cricket for New Zealand.
A couple of big movie roles and little gold statues later and he's Aussie as.
Then there was that thing with the phone...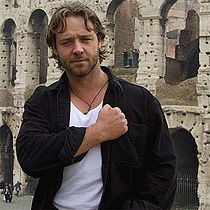 Verdict:
New Zealand can have him back
.