Ear candy
Two musically inspired top 5s for the price of one (no steak knives though).

My Top 5 favourite male vocalists - based on quality of voice.
1)
Thom Yorke
- He's as ugly as a hatful of arseholes, but he could sing the phonebook and I'd pay to listen.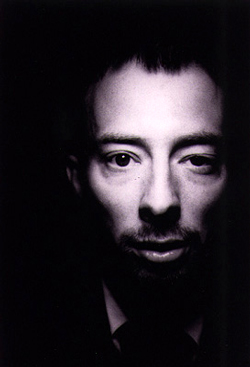 2) Jeff Buckley
- A much stronger singer than swimmer. His take on Cohen's
Hallelujah
still gives me chills.
3) Hamish Cowan
- The Cordrazine album
From Here to Wherever
is one of the most under-rated Australian albums of all time.
4) Elvis Costello
- I've always loved his music, but fell in love with his voice when he sang unaccompanied (by instrument or microphone) at the Perth Concert Hall... a-fucking-mazing!
5) Nick Drake
- Hauntingly beautiful vocalist.
My Top 5 favourite female vocalists - based on quality of voice.
1) Melanie Oxley
- Her voice is like velvet.
2)
Lou Rhodes
- I heard a stripped-back live recording of
Wonder
recently... irresistible. (Check
this
out)
3)
Lenka
- I've only heard her sing on some Decoder Ring tracks, such as
Somersault,
but I've heard enough to know that her voice is utterly gorgeous.
4)
Chan Marshall
-
Her voice conveys so much emotion.
5) Missy Higgins
- I've always been a bit of a fan, but her cover of the Split Enz track
Stuff and Nonsense
is the best thing I've heard this year.
Disclaimer: If I did these lists again tomorrow, they'd probably be different.
Listening to:
She Will Have Her Way -
The Songs of Tim & Neil Finn